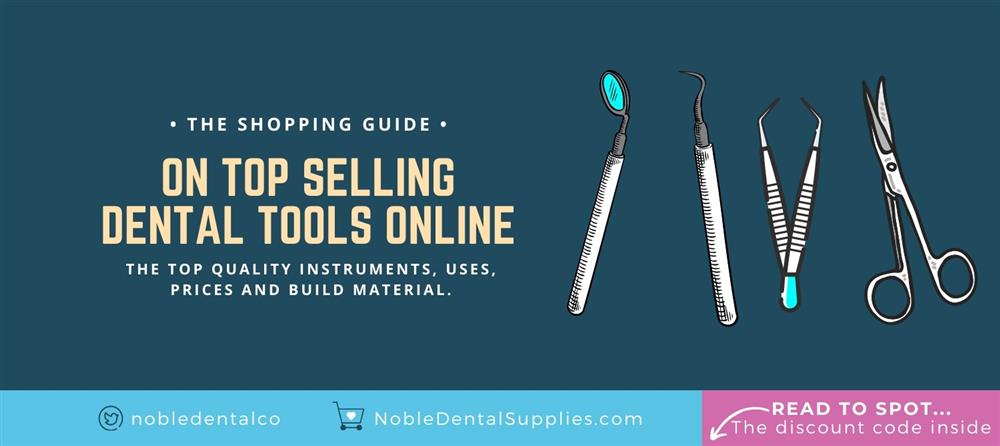 Modern dental offices rely on a variety of tools for cleanings, restorations surgeries and more. There are so many tools that identifying them can be challenging for beginners. In this guide, we take the time to share the uses and key features of standard professional dental tools that you will encounter when keeping your dental practice inventory stocked and ready for procedures.
Noble Dental Supplies carries all of the dental instruments professionals require, so you can get everything you need in one place, saving you ample time. We pride ourselves on helping practices save their hard-earned money and invest it back into their business and patients. 
We are proud to work with the U.S manufacturer J&J Instruments, which provides some of the highest quality instruments on the market for affordable prices. 
Aspirating Syringe

In medical terms, aspiration is the removal of blood, mucus or other bodily fluids from a patient's body. An aspirating syringe is simply a syringe with suction capabilities. 
Pulling up on the plunger allows dentists to draw fluids from a  patient's body or quickly check the needle's position to make sure it is in the right place before injecting local anesthetics. 
What to look for: When shopping for this tool, look for ergonomic designs that give you better grip, dexterity and control.  Look for durable medical-grade materials that will last a long-time. You need a trusted instrument that will not fail during critical procedures such as injecting anaesthetic.  
Compare top aspirating syringe brands
| | |
| --- | --- |
| Easy Comparison | Average Price |
| J&J Instruments | $19.99 |
| Septodont | $50 |
| MilTex | $35 |
Tissue Forceps

Forceps are used for manipulating tissue and supporting tissue during surgical incisions or suturing. 
Additionally, they serve as an extra set of fingers for grasping, and they are usually more gentle and less likely to cause injury. 
Tissue forceps have small teeth that help to safely grasp tissue. Minimal pressure on the handle is needed to keep the tissue secure and held in place. 
For this reason, surgeons prefer tissue forceps because they prevent injury from accidentally crushing tissue from applying too much pressure. 
What to look for: Take into account the size of the forceps for your unique operational needs.  In addition, each tissue forcep has teeth of different numbers and sizes. The tip of the forceps may either be serrated or rat-tooth. The best tissue forceps are made from high-quality surgical stainless steel. 
Compare top tissue forcep brands
| | |
| --- | --- |
| Easy Comparison | Average Price |
| J&J Instruments | $8.45 |
| ProDent | $18 |
| MilTex | $20 |
Periodontal Probe

Used for checking the health of the periodontium, a periodontal probe is an essential tool for every dental office. Dentists require a reliable, long-lasting instrument that fits comfortably in the hands.
What to look for: The most important aspect of a periodontal probe is the markings on the tip. They must be accurate to precisely measure the health of the periodontium and provide the right diagnosis. Each instrument uses a different marking system, so you will want to carefully check the markings to make sure it is the right choice for you. The tip should be polished and smooth to ensure ease-of-access to subgingival areas.

Compare top tissue periodontal probe brands
| | |
| --- | --- |
| Easy Comparison | Average Price |
| J&J Instruments | From $8.99 |
| Nordent | $26 |
| HuFriedy | $30 |

Acorn Burnisher

An acorn burnisher is used to smooth amalgam after it condenses, burnish amalgam and generate occlusal anatomy. The acorn-shaped tip carves away at excess amalgam to contour restorations.
What to look for: You'll want to consider whether you require a double or single-sided tip. The best acorn burnishers have ergonomic designs to increase safety and comfort.
Compare top acorn burnisher brands online
| | |
| --- | --- |
| Easy Comparison | Average Price |
| J&J Instruments | Starting From $8.99 |
| Hu-Friedy | $31+ |
| MilTex | $27+ |
Crown Scissors

Crown scissors are frequently used to trim the edges of stainless steel preformed crowns. Crowns are preformed and need to be trimmed to fit over the affected areas.
This process requires precision to remove material confidently at the margins of the crown until the desired length is achieved. 
What to look for: Comfort is of primary importance when performing delicate procedures such as trimming crowns. The rings should be comfortable and the size appropriate for your needs. The blade of the scissors may be curved or straight. 
Compare top crown scissors brands
| | |
| --- | --- |
| Easy Comparison | Average Price |
| J&J Instruments | Starting from $5.99 |
| Vantage | $11+ |
| MilTex | $50+ |
Impression Tray

Impression trays are filled with impression materials such as alginate to create accurate dental impressions. To get a good impression of the teeth, you need to use a technique that precisely captures the grooves of the teeth, gums and sulcus. 
Dental practices need to order a variety of stock impression tray sizes to meet their patients' needs.  A tray should be large enough to fit over all the teeth without touching the soft tissue.
What to look for: There are disposable trays and varieties such as stainless steel that are long-lasting and durable. Accuracy is the most crucial aspect of creating dental impressions, so you will need to depend on high-quality materials that offer dimensional stability. 
Jacquette Scaler

A jacquette scaler (commonly known as a sickle scaler) is a straight-bladed scaler that is designed for root debridement and the removal of calculus, plaque and other deposits from teeth.  
What to look for: When shopping for dental scalers, look for high-quality medical-grade steel and an easy-grip handle. The handle should be light-weight and may be either round or octagonal. You'll also want your scaler to stay sharp for an extended period of time. They come with both straight and curved blade edges, and it is good to have both options available. 
Compare top dental scaler brands
| | |
| --- | --- |
| Easy Comparison | Average Price |
| J&J Instruments | Starting From $20 |
| ProDent | $40+ |
| MilTex | $35+ |
Curette vs Scaler: what's the difference?
The main difference between a curette and a scaler is the shape of the blade. In cross-section, the curette blade is triangular and the scaler blade is semi-circular. A curette is specifically designed to reach the subgingival calculus. The blade of the curette may be placed into the periodontal pocket safely without causing lacerations. 

Gracey Curette

In contrast to a universal curette, the gracey curette is a hand instrument that is area-specific, meaning the blade is crafted to perfectly reach a set of teeth or area of the mouth. A gracey curette's blade has only one cutting edge.  Along with the universal curette, they are one of the main hand instruments used for root planing and scaling.
What to look for: These instruments have to be held for long periods, so you'll want something light-weight. Gracey curettes come in numbered types, so you will want to consult a gracey curette chart to know which number corresponds to which teeth.
Compare top gracey curette brands
| | |
| --- | --- |
| Easy Comparison | Average Price |
| J&J Instruments | $21 |
| Hu-Friedy | $38 |
| Nordent | $35 |
Hemostat Instrument

The primary function of a hemostat is to grasp tissue or bone, but it can be used for general purposes also. The end is serrated with interlocking teeth. When needed, it may be locked during surgical procedures, providing a firm yet gentle grip.
What to look for: You can choose between straight or curved types, and it is good to keep both handy. Look for hemostats with rings that fit comfortably in your fingers. There are many different types of hemostats featuring different tips, and we keep a large selection so that you can choose the right hemostat for your needs.
Compare hemostat brands
| | |
| --- | --- |
| Easy Comparison | Average Price |
| J&J Instruments | $8.45 |
| Nordent | $45 |
| Hu Friedy | $60 |
Amalgam Carrier

Amalgam carriers are hand instruments designed to fill up dental cavities with amalgam. Their tubular tips can act as syringes transporting the amalgam to the cavity. Pressing on a specialized lever activates a piston that deposits the amalgam deep inside the cavity. 
What to look for: Amalgam carriers may be single or double-ended. You'll want to look for something light-weight and easy to manage. The inner tube that contains amalgam can be made with Teflon, but surgical steel is the best material.
Compare top amalgam carrier brands
| | |
| --- | --- |
| Easy Comparison | Average Price |
| J&J Instruments | $20 |
| Hu-Friedy | $60 |
| MilTex | $55 |
Dental Excavator

Dental excavators are one of the most versatile hand instruments on your tray. They are used to remove damaged tissues in cavities, temporary cement and provisional crowns. 
What to look for: There are many different types of excavators, and the tips can be spoon, leaf or ball shaped. The devices are either right or left-oriented, so make sure that you know the hand-dominance (left or right) of the staff in your office and purchase accordingly. 
Compare top dental excavator brands
| | |
| --- | --- |
| Easy Comparison | Average Price |
| J&J Instruments | $10 |
| Hu-Friedy | $29 |
| MilTex | $30 |
Cavity Liner 

Designed for accurate placement of liners, these tools have a small-ball shaped working end. Excellent craftsmanship is required to create a tool that you can trust to precisely transport and apply flowable materials such as liner.  
What to look for: Look out for the size of the instrument and seek out ergonomic designs that are light-weight and easy to hold. You may need a single or double-sided instrument depending on your dental staff's needs. 
Compare top cavity liner brands
| | |
| --- | --- |
| Easy Comparison | Average Price |
| J&J Instruments | $4.45 |
| Pomee | $8 |
| Hu-Friedy | $32 |
Cement Spatula 

A cement spatula is an excellent tool for mixing and preparing cement, filling materials and impression materials. The working end features a large surface area, and it can be both single and double-ended.
What to look for: You'll want an instrument with a ribbed handle for a secure grip. It also needs to be made of high-quality non-rusting stainless steel. The working ends come in all sizes, so you'll want to consider which cement spatula is the best size for you. 
Compare top cement spatula brands
| | |
| --- | --- |
| Easy Comparison | Average Price |
| J&J Instruments | $6.45 |
| Nordent | $25 |
| Hu-Friedy | $29 |
Cheek Retractor

The function of cheek retractors  is to keep a patient's cheek tissue away from working areas during dental procedures ranging from surgeries to cosmetic teeth whitening. They help dentists to get a full view of the patient's mouth. 
What to look for: Cheek retractors may be made of autoclavable materials, or they can be disposable. In general, they are either made of plastic or stainless steel. We recommend choosing medical grade-stainless steel for durability and reusability as they are easy to disinfect and are cost efficient. 
Compare top cheek retractor brands
| | |
| --- | --- |
| Easy Comparison | Average Price |
| J&J Instruments | $11.45 |
| Surgimac | $15 |
| Hu-Friedy | $38 |
Shopping Dental Instruments
You need reliable tools that you can trust to perform medical operations safely and maximize patient comfort. If you want to save money on your inventory, you don't need to settle for using tools of substandard quality. 
Our professional dental instruments are made of premium medical-grade steel, and we never compromise on quality. We search the world for the best dental tools, thoroughly reviewing every manufacturer and brand that we work with. 
For over 40 years, we have firmly committed ourselves to sourcing affordable tools that are just as good and even outcompete the name brand instruments. Our priority is to support practices that work hard every day caring for their communities. 
We are a family-owned business and we value working with people to help them solve their problems and run a highly-efficient and smart dental practice business. We are fully stocked, and you can re-order supplies quickly and easily. 
Throughout the entire ordering process, we'll help you manage your account and optimize your inventory for best pricing, quality and reliable delivery. If you give us your current inventory invoices, we guarantee we can help you save, and give you extra savings to reinvest in your patients and business.